Game of Thrones Pokies Review (Microgaming)
The Game of Thrones pokie is, without a doubt, one of the best pokies that Microgaming have released in years. This game is based around the book and TV series. It manages to capture the feel incredibly well.
How to Play Game of Thrones Pokie
The Game of Thrones pokie was first released in December 2014. It is a video slot which offers 5 reels and 15 paylines. Well, that is a bit of a lie. It offers a 243-ways to win version as well.
The minimum bet on the standard 15 paylines is 15 cents per spin. The maximum is $15. On the 243-ways to win, it is 30 cents minimum, $6 maximum. This is a medium volatility pokie with a 5% house edge.
The Game of Thrones pokie looks gorgeous. As you may have guessed, it is based around the fantasy series. The images that you see in the game have a ton of detail added to them. The theme to the game is the same as the theme to the TV series.
We admit, it is something that can get a little bit irritating after a while, but it is not going to be a major issue. You know where that mute button is! All in all, it seems like Microgaming have done a terrific job when it comes to making this game great to play. They have worked wonders with what must be quite a challenging theme!
Since this is a branded pokie, nothing is really going to 'blow your mind' from a difficulty stand point. It is your bog-standard pokie. This means simple gameplay which is going to be a ton of fun.
Bonus Rounds & In Game Features
Both the 15 payline and the 243 ways to win game play the same. We find that the 15 payline option is better if you want the bigger wins and more flexible ways of betting.
Stacked Wilds: this is the feature that will pop up the most. The wild can always be stacked. It can show up across several reels. This really boosts your chances of winning.
Iron Throne: three of them will trigger the free spins mode (more on that in a short while). 2 of them will give you a random cash prize which is between 2x and 5x your initial bet.
If you get three or more scatters, you will be taken to a screen where you will be able to select the free spins mode you want. There are four of them:
Baratheon: 8 free spins. 5x multiplier. The Baratheon symbol will be a 3 stack.
Lannister: 10 free spins, 4x multiplier. The Lannister symbol will be a 4 stack.
Stark: 14 free spins, 3x multiplier. Stark is 5 stack.
Targaryen: 18 free spins. 2x multiplier. Stack is 6.
There is also a gamble option which appears on some versions of the pokie. If you do not get a winning spin, you will be able to gamble a small amount of money to give you a chance to win. Can be lucrative. In most cases, it will not be.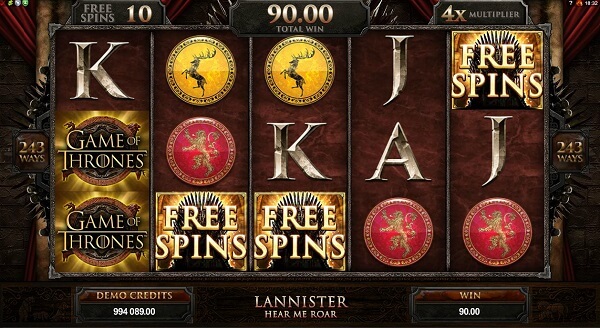 Game of Thrones Mobile Pokie
The Game of Thrones mobile pokie does play well. We are going to give it that. However, there is an issue which seemed to pop up in the countless reviews that we read. This was not something that we experienced, but many people did note that the Game of Thrones mobile pokie, on older devices, did not have any sound.
This only happened with older Apple devices. Granted, this is not that much of an issue. Most people do not have any sound playing when they are diving into pokies, but it is something which is probably worth mentioning.
The mobile version of the pokie does not have the 'gamble' option built into it either. Again, not an issue as most people are not going to use that option, but it is still worth pointing out.
Summary – What Do We Think of Games of Thrones Pokies?
If you love Game of Thrones, you are going to love this pokie. There is a lot going on. It really replicates the source material very well. This is easily one of the best movie Slots we have played in years. Highly recommended!
If you want to check out the Game of Thrones pokie, you can do so on any website which offers Microgaming pokies. If you need a couple of suggestions, we have put together a decent guide to some of the best online casinos. Make sure you check it out!
Where To Play Game of Thrones Pokies