Mega Moolah Pokies Review (Microgaming)
Mega Moolah tackles progressive pokies in a different way to what you may be used to. In our opinion, the method that Mega Moolah uses is among the best in the world. If you have to play just one progressive game, make it this one!
How to Play Mega Moolah Pokies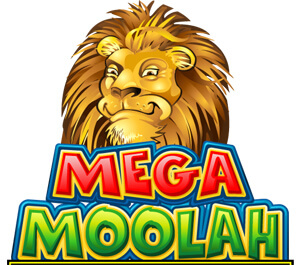 Mega Moolah is one of the most popular pokies under the Microgaming banner. The minimum bet per spin is 25 cents. The maximum bet is $6.25. We encourage you to bet as high as possible, as this will have an impact on your chances of winning the bonus. More on that soon! There are 5 reels and 25 paylines here, which is more than enough!
So, what are progressive pokies? Only the greatest thing in the world! All of the progressive pokies in the world are 'linked'. The more people that play these games, the higher the jackpot creeps. It is common to find that the bonus available on Mega Moolah pokies stretches into the millions of dollars. Basically, if you want to win big on a game, then this is the game to play.
The theme of Mega Moolah Pokies is pretty decent. It is set in Africa. It has a 'cartoon' style to it. You can tell that the team at Microgaming spent a lot of time on the game in an attempt to make it look as gorgeous as possible, so we have a ton of praise for them there. You probably will not be paying too much attention to how the game looks, but it is great anyway!
This game is simple to play. Sure, there are a few features, but nothing that is going to have you scratching your head. Your main decision will be focused on how much you are going to bet on each spin. We recommend that you spend the maximum amount that you can comfortably afford. You will see why in the next section!
Bonus Rounds & In Game Features
In Mega Moolah, your wild is a Lion. If he pops up, then it will act as a substitute for any other symbol in the game. It can't substitute for the scatter, but we are sure you knew that! Anyway, if you get a Lion on the reels, then your chances of winning will shoot up by quite a lot! Get a few of these in a row and you may be enjoying a rather healthy sum of cash.
In this pokie, the scatter is a fortune telling monkey. Just three of them will trigger your free spins. You will be given 15 free spins with a multiplier of 3. This is where we feel that Mega Moolah is different to other progressive games. Most do not offer free spins.
Now, finally, for the big one. This is winning your bonus. As we have mentioned twice; the chances of you winning the progressive jackpot will increase the more you bet.
There are actually four progressive bonuses found in this game, each with different values. You do not have to do anything to qualify for the progressive bonus. It is all about playing the game. The more you play the game, the more chance you have of winning. This is because this bonus is randomly triggered. You never know whether the next spin will make you a millionaire!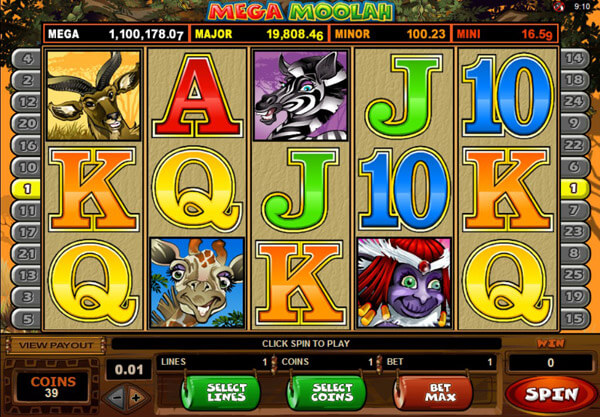 Mega Moolah Mobile Pokie
The Mega Moolah mobile pokie is awesome. Seriously. However, you probably did not expect anything less from Microgaming. This is a company which has consistently blown us away when it comes to the production values of their games.
Summary – What Do We Think?
One of our favourite things about Mega Moolah is the fact that the game is very much not just a progressive pokie. Most progressive games 'out there' tend to have just one way of winning big. They do not have free spins. They do not have multipliers. They do not have anything.
The only people who are going to get any enjoyment out of those games are people who win big. That is not fun! This is why we love Mega Moolah. Sure, there are four progressive jackpots. Your chances of winning them are minimal. However, at least you have some free spins thrown in for good measure!
You can play Mega Moolah pokies on any website which offers Microgaming games. If you need a nudge in the right direction, then we have put together a list of some of the best online casinos around, which you can find below. We urge you to check it out!
Top Ranked Australian Online Casinos October 2021