Thunderstruck II Pokies
Thunderstruck II is easily one of the most popular online pokies around right now. This comes as no surprise, really. It is a game which rewards you the more than you play. Each spin may lead to a completely different feature.
How to Play Thunderstruck II Pokies
Thunderstruck II has been designed by Microgaming. It offers 5 reels and over 243 ways in which you can win. The minimum bet per spin is 30p and the maximum bet is £15.00. This makes it one of the 'cheaper' pokies out there when it comes to maximum bets. This makes it perfect for those who may not be big gamblers but still wish to gamble near the upper end of the spectrum.
The Thunderstruck II pokies is based around Norse mythology. This means Loki, Odin, Thor and Valkyrie (none of them are Marvel characters, they existed well before Stan Lee put pen to paper) make an appearance. One of the things that we love about Microgaming games is the fact that they put a lot of effort into the detail. It is worth noting that the Microgaming game, Immortal Romance, is the same as this game in terms of gameplay. Therefore, if you fancy a vampire theme over Norse Gods, then that is the game to play.
The game is simple to play, with most of the complexity coming from the features in the game. These features are nothing too complicated anyway and you should pick them up.
One of the wonderful things about Thunderstruck II is that you do not need to worry about line bets or anything like that. Whatever you bet gives you access to every payline. We love games like this. It seems that they are built for those who are newer to the world of online pokies.
Bonus Rounds & In Game Features
There are several features in the Thunderstruck II pokies. One of the unique things about this game is that the features will change depending on how long you have been playing the game for. Essentially, the more features you trigger during a play session, the 'richer' the feature you end up will be. If you have played the Immortal Romance pokies, then this is going to be similar to that:
For the first four feature triggers, you will get 10 free spins. All of your wins here will be subject to a 5x multiplier.
For the fifth to the ninth feature trigger, you will get 15 free spins. These free spins will have a Wild Magic feature attached to them. If Wild Magic symbols appear on the middle reels, they will now be wilds.
For the tenth to the fourteenth triggers, you will get 20 free spins. During these free spins, you will benefit from a Wild Raven feature. This feature can turn various symbols into multipliers. If they form a winning combination, then the combination will be multiplied. If two multipliers can be found in a winning combination, they will be multiplied together. This means a 2x and a 3x multiplier will become a 6x multiplier.
After fifteen triggers, you will get 25 free spins. These will come with a Rolling Reels feature. The more you win (consecutively) the higher the multiplier will climb. When you win, the reels will continue to spin until the wins stop coming in. A single free spin can net you a maximum of 5x multiplier!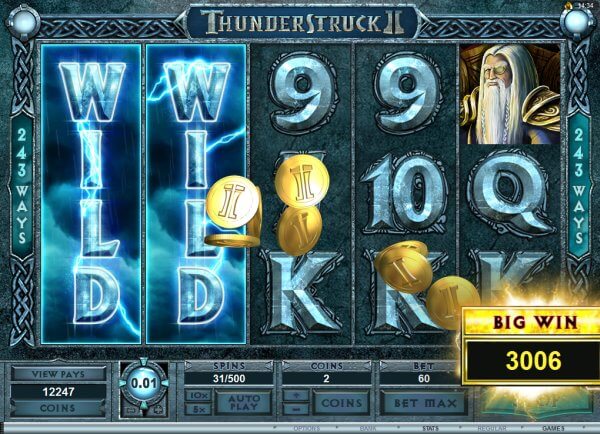 Thunderstruck II Mobile Pokies
There is a Thunderstruck II mobile pokies available. Now, it is worth noting that Thunderstruck II came out in 2010. This means that smartphones and tablets around, but they were not all that good. In fact, they were abysmal.
The game was not designed for mobile devices in the slightest. Despite this, Microgaming have done a brilliant job translating the game to mobile devices. It looks gorgeous and it plays well. If you love your pokies 'on the go' then there will not be a single ounce of disappointment with this game.
Summary – What Do We Think?
We are struggling to think of a downside to Thunderstruck II. If there is one, it is the fact that the maximum jackpot is slightly lower than its counterparts, including Immortal Romance.
However, the amount of fun that you are going to have in Thunderstruck II will more than make up for that. This is a decent game, and it is one that you are going to completely fall in love with.
This is just as well, really. The majority of your wins are actually going to come from playing the game more. You can play the Thunderstruck II pokies on any website which offers Microgaming pokies, see our top Australian casinos below.
Our Top Ranked Casino Sites Worth Checking Out