When Pigs Fly Pokies Review
If you love your pokies with a unique twist, then the When Pigs Fly pokie is going to be right up your street. This gorgeous game changes as you win. This creates a new dynamic which you are going to have a ton of fun with.
How to Play When Pigs Fly Pokie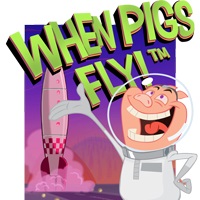 On the When Pigs Fly pokie, there are 5 reels, 5 rows and a ton of ways to win. Why are we just saying a 'ton' of ways? Well, because this game adapts over time. Right at the start, there is just 45 ways to win. Nothing amazing. However, as those wins start to roll in, it shoots all the way up to 3,125 possible ways. Nifty, right?
This is a machine which very much relies on 'cartoony' graphics. Although, we are sure that you could have guessed that from the name. You don't really expect to see realistic pigs flying, do you?
We won't lie; if you are not a fun of cartoon-style pokies, you are not going to live this machine. It does go overboard in that sense. We feel as though it is well done. We especially love the whole 'theme tune' to the game!
While this is a machine which changes 'over time', we feel as though it is simple enough for new players to understand. Experienced players are going to love the fact that this pokie offers something a bit different from the norm. It certainly is one of the more unique pokies that you are going to be diving into this year.
Bonus Rounds & In Game Features
The main feature in this game is the 'Re-Spins' feature. You have up to five free re-spins available to you. Each time you win, you get another re-spin. The major reason as to why you want to trigger this feature, other than the fact that it is putting cash in your pocket, is that the reel is going to change in shape. With each re-spin, two more positions are going to become active on the reels. This increase your chances of winning:
135 ways to win on the 1st respin
405 ways on the 2nd re-spin
675 ways on the 3rd re-spin
1,125 on the 4th
1875 on the 5th
Basically, you are increase your chances of winning drastically. Things don't end after that fifth respin, though. Oh no. On the next one, you will trigger the Free Spins feature. This is where you will have 3,125 possible ways in which you can win. This means that the potential to make a lot of cash will be here.
While it is very rare that you will be triggering the free spins, after all, it will require you winning numerous times in a row, when it does pop up, you are going to be sitting on a gold mine of cash!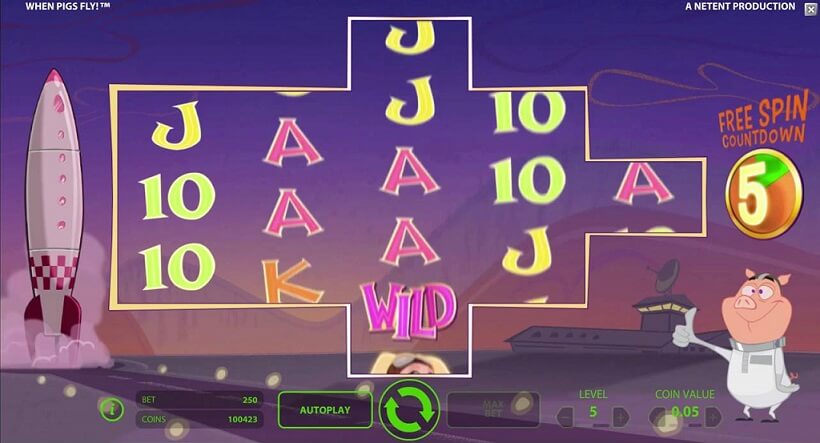 When Pigs Fly Mobile Pokies
This is a game which translates very well to mobile devices. It should. It is a NetEnt pokie, after all. The graphics look absolutely sublime on even the smallest of screens out there. While we are still the type of people to play most of their games on desktop computers, just for the comfort factor of it, we certainly would not be opposed to playing this one 'on the go'.
Summary – What Do We Think?
We love the When Pigs Fly pokie. We know that there are some people out there who do not. They are not fans of pokies which change over time. However, we love them. It gives us something to strive towards. If we had just one complaint about this machine, it would be a very small complaint.
This is the fact that we wish the pokie would have some other way to trigger the free spins. We are not quite sure how this could be worked into the game, but if NetEnt could have done something like this, then the game would have been nigh on perfect.
Right now, it is far too difficult to trigger. That being said, we still love this game and will sing its praises to the end of the earth and back.
You will be able to find When Pigs Fly Pokies on all websites which offer NetEnt pokies. Struggling to find a good site? Don't worry! We have your back. We have put together a list of some of the best online casinos around. Tuck into it. You will find plenty of great places to gamble.
Top Australian Online Casinos October 2021